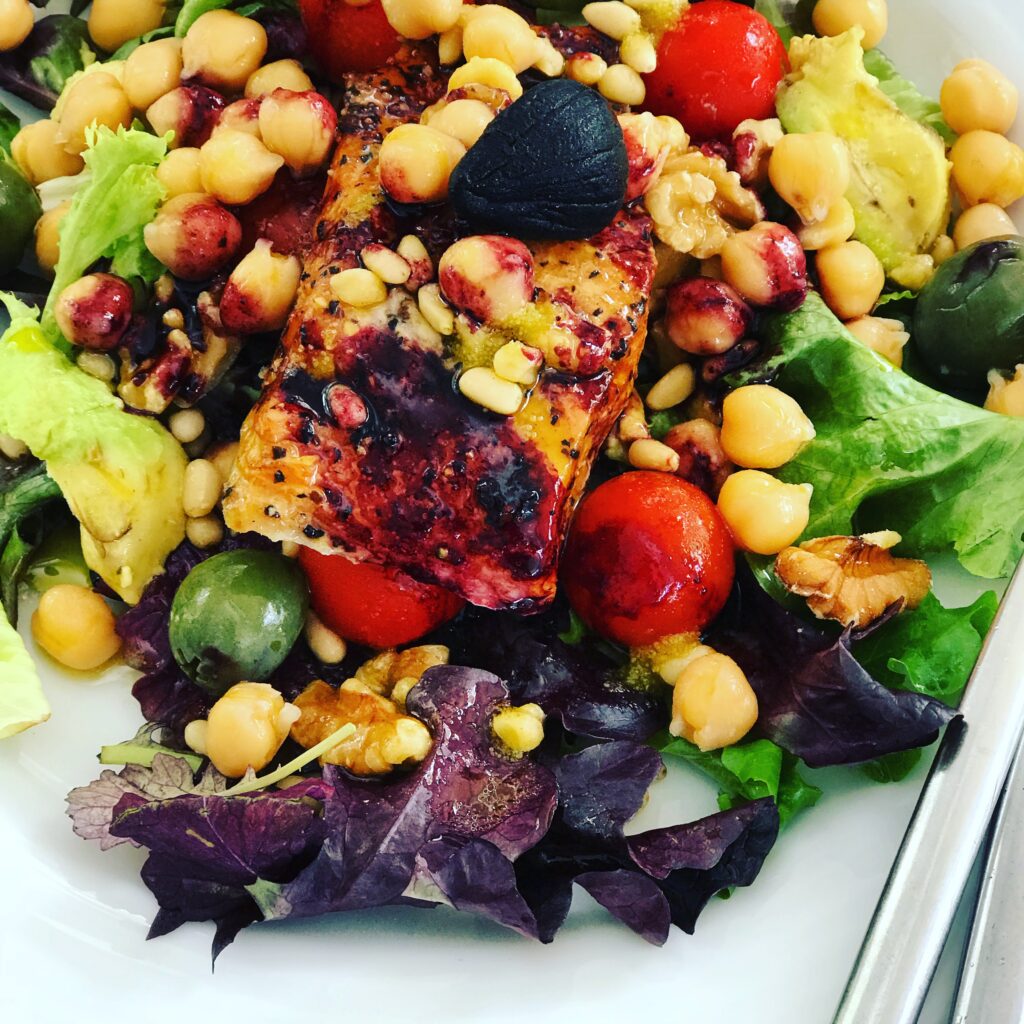 Australian's are pretty clued up when it comes to eating for good health. We have traditionally eaten a fresh food diet, it's only in the past 50 years that so much processed food has made it into our homes. It's this bad habit of grabbing convenience foods loaded with salt, preservatives, flavour additives and sugars that contributes to so many allergies, intolerances, metabolic issues and poor health leading to chronic disease.
I want to show you it's easy to break bad habits and make the most from your lunchtime – regardless of where you eat this important meal.
From fast-food restaurants, even the innocent corner cafe with the 'home made' muffins (read sugary cakes most likely cooked in a production kitchen somewhere else) and bakery pastries (read layers of bad fats) to supermarket shelves exploding with high-fat and high-sugar add-ons, lunchtime can be like running the gauntlet of temptation for those trying to eat a healthy and balanced diet.
But a healthy, delicious and enjoyable lunch can be done. And you will probably save money, energy and time with these simple tips.
When planning your meal, it should include lean protein – try a piece of wild salmon, poached or roasted chicken breast, nuts, cheeses, legumes – whole-grain carbohydrates, and fresh produce.
It doesn't have to be raw vegetables with salad leaves either, get creative with some leftover (or meal prepped) roasted veggies, they make a delicious plant based salad. Or try adding some fruits such as thinly sliced pear or apple, even strawberries – I kid you not – they add a delicious dimension to savoury plates, try matching these fruits with cheeses. Blue vein and pear are a match made in heaven. Chicken, camembert and stone fruits are another great combination. This helps if you crave sweet things.
Roughly half of your plate should be vegetables; one-quarter should be lean protein and one-quarter should be whole grains, such as half a cup of brown rice, quinoa or some legumes (they are just the seeds of the plant after all) like lentils. You might include a small amount of healthy fat, such as a tablespoon of olive oil and cider vinegar or lemon juice to dress up your salad.
Be wary of salad-bar style salads, or packet salads from supermarkets. They sometimes contain unhealthy fats, hidden sugar, and salt — not to mention lots of kilojoules.
Follow these four steps to creating your own signature version of a satisfying, healthy lunch. The trick is building in flavour so it is satisfying and not turfed in the bin at work the moment someone suggests going to the pub for Parmie Tuesday. Or was that just 25 year old me who used to do that?!
Step 1: Build your vegetable base. Loading your plate with raw or blanched leafy greens and raw, grilled or roasted vegetables means you are already halfway to healthy right there – and is an excellent source of phytonutrients that you can't help but eat with all the flavour you'll pile on top in the next steps.
Step 2: Add your protein choice. You might try a few handfuls of chickpeas or kidney beans, perhaps if you have time some felafel for example. Beans are one of the best sources of fibre – and they're filling – so you're going to be satisfied after your meal. Other good selections include grilled chicken, small amounts of cheese, and I love chopped boiled eggs and sliced plain egg omelette if I have the time. Be frugal with your cheeses, it only takes a sprinkle of strongly flavoured varieties like feta or Parmesan to deliver the flavour. Cheese also delivers a lot of kilojoules per weight, so keep this in mind when you are imagining dividing your plate into quarters as mentioned above.
Step 3: Add a small amount of healthy fat. Sprinkle on the nuts and seeds. They are high in heart-healthy unsaturated fat and healthy protein, give you a feeling of fullness, and help food stay in your stomach longer. Load up on avocado, it's so good for you. You might also opt for a dash of quality olive oil.
Step 4: Whole grains and fruits make a flavourful addition to any creative salad. Look for whole grains like quinoa or teff to sprinkle on top. Or add a few slices of fruit. Try seaweed to add flavour and minerals.
My other favourite lunch is vegetable soup. I make a big batch on the weekend and freeze it into portions and defrost and reheat in a saucepan before I leave the house and put it into my single serve thermos which I purchased at Biome and is simply awesome – because you can make it hot (for soups) or cold for yoghurt and granola. I actually have two for this purpose if I know I'm going to be out all day.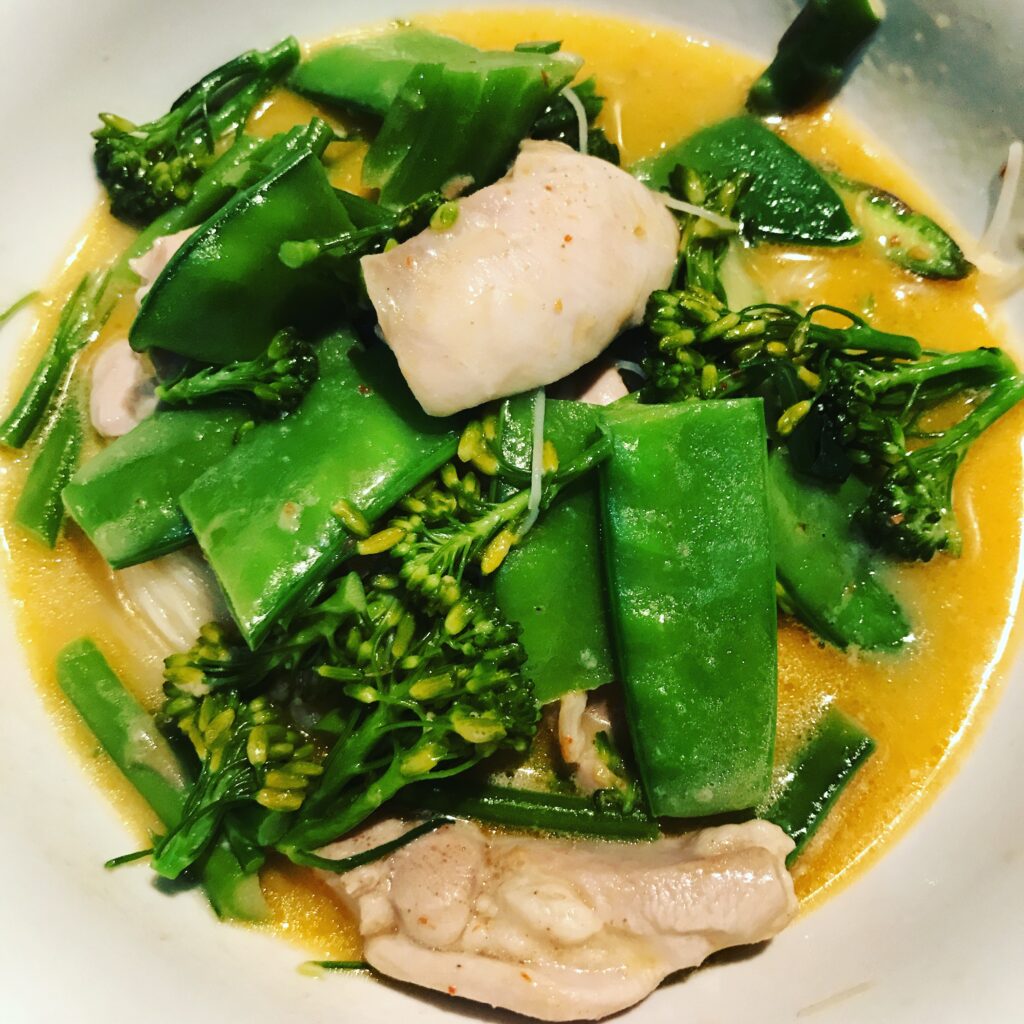 Some great soup bases to get you going are:
miso
thermomix (or similar) homemade stock paste
teaspoon of curry paste and some coconut milk.
They all give amazing soupy flavour when you add boiling water at lunchtime. Just add finely sliced vegies – you can thank me later…
One of the best pieces of advice I can offer EVERYONE is to eat a good lunch. It should be the largest meal of the day with balanced portions of carbs, protein and fats to give you the fuel to get through the afternoon and then enjoy a smaller meal in the evening while you are winding down for a restful and rejuvenating sleep. A great lunch makes you a better human being. If you want to learn about other effective strategies for healthy eating, talk to me about booking a free initial consultation for my health coaching service. I love to help people realise they are the ones in control of their health and actualise a healthy and long life for themselves and their families.